Facial Treatments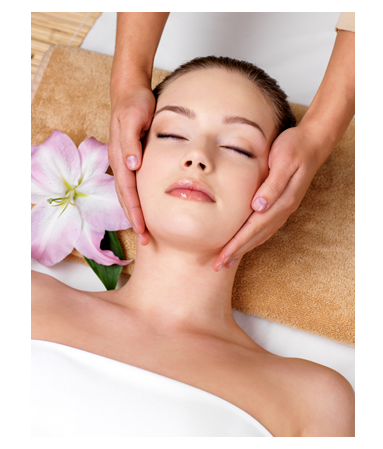 Signature Deep Cleansing Facial (1hr)
This is one of the most complete and personalized deep pore cleansing that you will ever experience and is both a signature and restorative. Experience a signature treatment with a deep pore cleansing added with warm aromatic towels, a nice facial scrub for exfoliation, followed with fragrant essential oil steam to open facial pores and soften the skin. Also includes an eye treatment, gentle extraction of impurities, relaxing massage of the face, neck and décolleté, specialized mask application complete with a hand and arm massage. Last but not least, a fabulous antioxidant serum is applied followed by moisturizer and sun screen protection.
Anti-Aging Rejuvenating Facial (1hr)
A luxurious deep reparative and anti-aging facial for tired skin. This facial will add moisture back to dehydrated skin and dramatically protect against the effects of oxidative and harsh environmental elements. Plant repairing agents and essential oil aromatherapy combine for an intensive treatment. A Skinceuticals Vitamin C mask is added for oxidative repair and firming. Special attention is placed on those areas that age more quickly: facial lines around the eyes, lips, and décolleté.
Anti- Acne Treatment (1hr)
A highly specific treatment that goes further than the typical cleansing and purifying process. Correction and healing are the cornerstones of this distinctive, highly curative treatment that deals with the issues of acne outbreak. By regulating the production of sebum instead of merely drying out the skin as well as controlling inflammation, this therapeutic facial produces measurable and tangible results.
Express Facial (30mins)
Need a facial but short on time? This quick, yet highly personalized treatment will cleanse, exfoliate and revitalize your skin in just 30 minutes. Have your pores deep cleansed and extracted or enjoy a skin rejuvenating facial massage. Your choice! Either way, you'll experience a treatment that leaves your skin feeling clean, smooth and revitalized. Include cleansing, exfoliation, extraction (if needed), toner, and moisturizer.
Microdermabrasion
Microdermabrasion is an effective and safe form of gentle exfoliation using crystals to remove dead or damaged skin cells and improve the skin's appearance, resulting in softer, smoother, brighter, clearer, and younger looking skin. Microdermabrasion will also reduce the appearance of fine lines, acne scars, hyperpigmentation, age spots, and other skin imperfections. This is a gentle and quick application with virtually no discomfort and no down time. All skin types and color will benefit from this treatment.
Dermaplane
A skin resurfacing procedure used to remove the thin, top, outer layer of skin (dead epidermal cells). It is performed using a special surgical blade to gently scrape away that top layer of problem skin. The treatment is wonderful for exfoliating the skin and for those that have peach fuzz on their face. It removes this along with dead skin cells, resulting in healthier looking skin. Removal of this outer layer of dead skin cells and fine hair enhances the penetration and speed of your personal skin care regimen. It also prepares the skin for other aesthetic procedures such as Chemical Peels and PhotoFacials. After the treatment, your make up will go on better and your skin will be very smooth. This treatment is great for someone who has sensitive skin or facial hair that does not respond to laser hair removal. A manual treatment that exfoliates the skin helping to remove fine facial hair, correct sun damage, and minimize fine lines and wrinkles.
Three for Me™
Icon™ & Three for Me treatment works by using a safe laser beam that passes through the skin and to individual hair follicles on the body. The laser's heat prevents the hair follicle from growing again, all while avoiding any potential damage to the skin. It is a quick and simple procedure, as a treatment usually only takes a few minutes to complete.
SkinCeuticals Chemical Peel Treatments
Micropeel
MicroPeel MicroPeel Sensitive 2% Lactic Acid
MicroPeel Glycolic Acid and 30%
These peels are safe, effective, and treats all types of skin types and colors. The Micropeel removes a micro-thin layer of skin. There is no down time and for best results 4-6 treatments 10-14 days apart is recommended.
MicroPeel Plus
MicroPeel Plus Salicylic Acid 20%
This light chemical peel is also safe and effective. The Micropeel Plus assists in sloughing off dead cells and debris and promotes cell turnover and growth. It is ideal for acne skin types, good for environmentally damaged and hypersensitive skin types, and treats all skin colors (limit to one per month on ethnic skin). For best results 4-6 treatments 2-4 weeks apart are recommended.
*All peels can be combined with Microdermabrasion or Dermaplane*
*Gift Certificates are available upon request*
RevitaLash
Eyelash Conditioner that is designed to condition, revitalize and beautify lashes. A 3.5 mL treatment is available, which is a 6 month supply.
MonaLisa Touch® Laser Treatment
This procedure is a painless and minimal invasive laser treatment for vaginal rejuvenation. By gently acting on tissue of the vagina mucosa, the laser stimulates the production of collagen, improving the functionality of the treated area and restoring the proper trophic balance of the mucous membrane.
Additional Laser Hair Treatments
Abdomen
Areolas
Arms (full)
Back (full)
Back (half)
Bikini
Body (full)
Brazilian
Brazilian (full)
Cheeks
Chin
Ears
Eyebrows
Face (full)
Feet & Toes
Fingers
Forearms
Forehead
Gluteal
Legs (full)
Legs (lower & upper)
Lip (upper)
Neck (back)
Neck (front)
Shoulders
Sideburns
Sideburns (upper)
Touch Up
Underarms (Axillae)